Congratulations on your Engagement!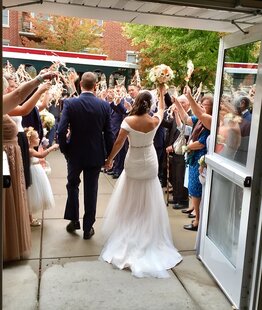 We share your excitement and happiness as you make your wedding plans and begin the beautiful adventure of marriage!
A church wedding is the sacred Christian celebration of your love and commitment to each other and to God, as you ask for God's blessing upon your marriage.
At First United Methodist Church, we want to minister to you, through your wedding service. The Wedding Ministry Team will do our best to make your wedding a joyous and God-glorifying day.
​
Romans 12:10:
"Be devoted to one another in love. Honor one another above yourselves"



We LOVE, love.
At FUMC Of Palatine, we can bring your wedding and special event ideas to fruition. Our beautiful indoor sanctuary can host the ceremony of your dreams or if an outdoor ceremony is more your style, we have a stunning green space right across the street. We also offer opportunities to host your rehearsal dinners and Reception at our onsite Wesley Center. Everything you can dream of to ensure a memorable experience for you and your guests.
Wedding Planning Basics at FUMC Palatine
Please do not make ANY vendor or subsequent commitments until your date and time are confirmed by the Wedding Ministry Team following payment of deposit.
1. Request for information-the church website has an inquiry form to submit to check on possible dates, or you may call the church office for information at 847-359-1345. Please download our Wedding Planning Guidelines.
2. Secure the Date-Please fill out the form online or request a paper copy from the church office. Return it with a $200 deposit to hold your date and time on the church calendar. The date will not be secured until the deposit is paid and form turned in. Note: no weddings can be scheduled on Christmas Eve, Christmas Day or Holy Week (Palm Sunday-Easter). Be sure to include the rehearsal date for the church calendar, too.
3. Meet the staff-Once the date is on the calendar you will be given an opportunity to meet with the pastor and also with your wedding hostess.
4. Sessions with the Pastor-The pastor will want to set up sessions to meet with you to plan the ceremony part of your wedding and for pre-marriage counseling and the opportunity to get to know the couples he/she marries. If you are using a guest pastor, you will need to have that pastor contact our pastor for permission and to send their credentials. Your counseling sessions will be set up with the guest pastor at the time and location of their choosing.
5. Planning with your wedding hostess-The wedding hostess will be happy to meet with you to show you the facility and answer any questions you have, and to give you the Wedding Arrangements and Ceremony Preference forms to be filled out at your convenience, returned at least one month before the ceremony. She will provide you with her contact information (email is preferred) to reach her if you have more questions or concerns, and to provide contact information for the organist, and wedding bulletin graphic artist if you choose to use this service. We also provide a helpful Wedding Guidelines booklet to assist in your planning a wedding at FUMC Palatine.